PROMOTING THE USE OF NATURAL FIBRES
FOR A HEALTHY AND MORE SUSTAINABLE FUTURE
CREATING A DIVERSIFIED PLANT-BASED FIBRE MARKET WHILE NOURISHING NATURE AND COMMUNITY
Fibral™ is an international material alliance that brings together companies and individuals working with ancient underrepresented and newly used plant-based fibres. Fibral™ provides a strong, aligned voice to these innovations. These innovations are increasing in demand as they are a real, tangible alternative solution to a product market dominated by synthetic and animal materials. The alliance provides necessary support to its member organizations; the makers that have created solutions intentionally and mindfully to valorize renewable resources. Their supply chains are designed with the communities they source from with the goal to achieve both positive environmental and social impact.
Fibral™ fibres
Fibral™ Fibres are wholly plant-based fibres originating from virgin sources of ancient underrepresented fibers or from new plant-based fibrous waste sources.
Fibral™ materials
FIBRAL™ Materials are textiles, non-wovens, or leather alternatives that are based upon a majority of plant-based fibres (Fibral). They may include other, biobased or non-biobased, components suited to the functional desired product applications and market requirements.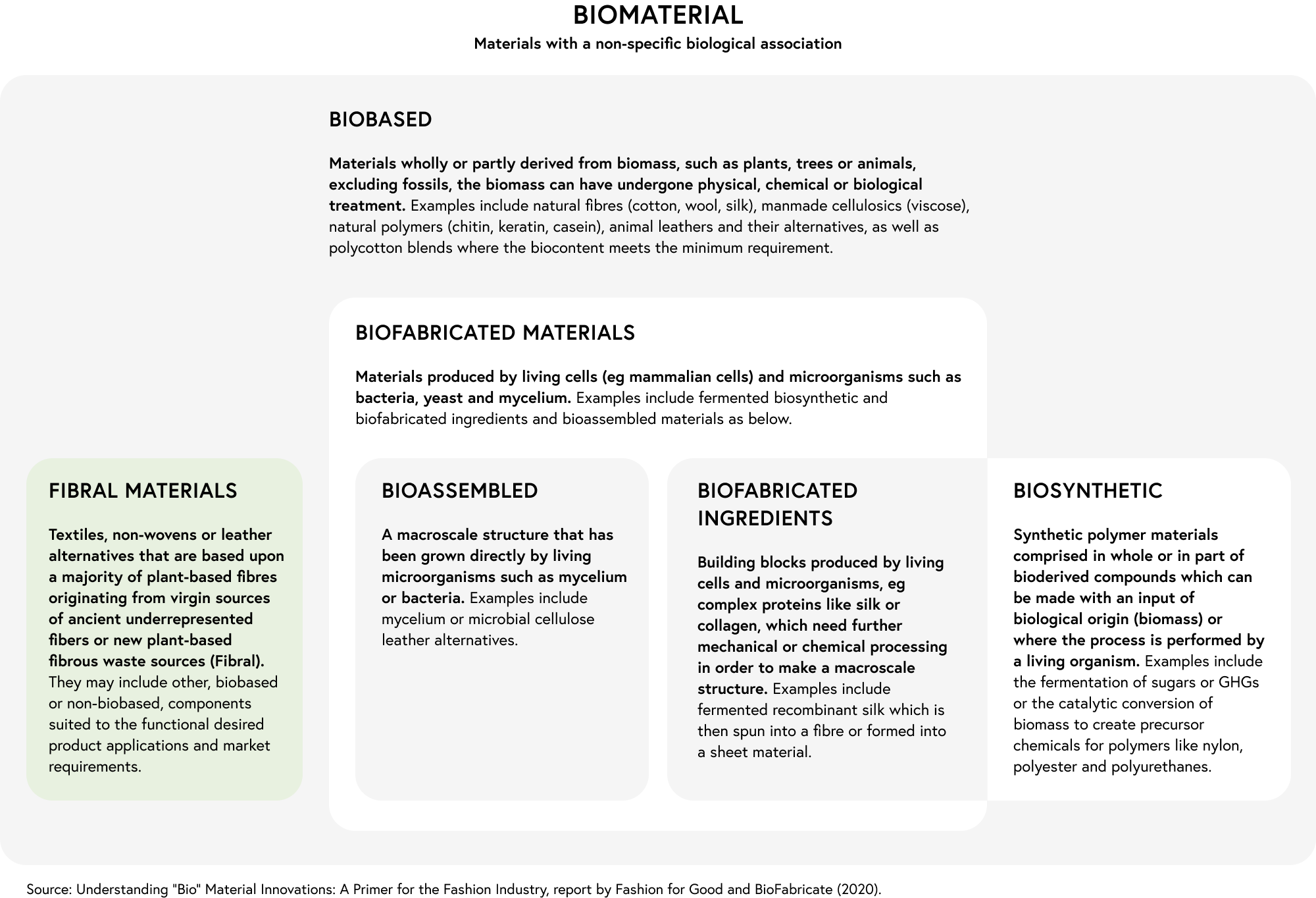 Our aim
The Fibral™ Material Alliance seeks to align plant-based fibres under a common umbrella with the aim:
To unite like-minded companies developing plant-based, innovative and sustainable materials and providing a space for partnering, sharing and caring.
To strengthen and give voice to the common vision and mission of healing the earth's ecosystems and the textile industry.
To enhance and empower its members' market positioning, as Fibral™ materials become a new force for change in the world of textile materials.
To become a strong platform to jointly access new industries and markets which are common to all members.
To bring transparency, traceability and clear guidelines and classification to all Fibral™ materials under the Fibral™ trade name.
To help to explore diverse and drive innovation.
To elevate the conversation within this material category.
Impact
Plant-based fibres are a renewable resource. Due to the increasing environmental concern and depletion of non-renewable resources, plant-based fibres are greatly enlarging their range of applications. Aside from their environmental impact potential, plant-based fibres are strong, flexible and versatile, making them desirable for textile and a range of fashion-related products.
WATER
Mainly rainfed with no irrigation needed
SOIL
Low pesticide use
Improved soil fertility
Carbon sequestration
Biodiversity
LAND
Marginal land
Decrease land use change
RESOURCE EFFICIENCY
Multi-purpose crops
Co-/ by-products for energy, building, etc.
COMMUNITY
Support of local business
Extended or additional revenue stream